Common hop (Humulus lupulus L.) vector
Common hop (Humulus lupulus L.) herb vector, clip art in PNG and SVG. European, stamine hop. No background, transparent, black and white, outline style. All vectors are free to download.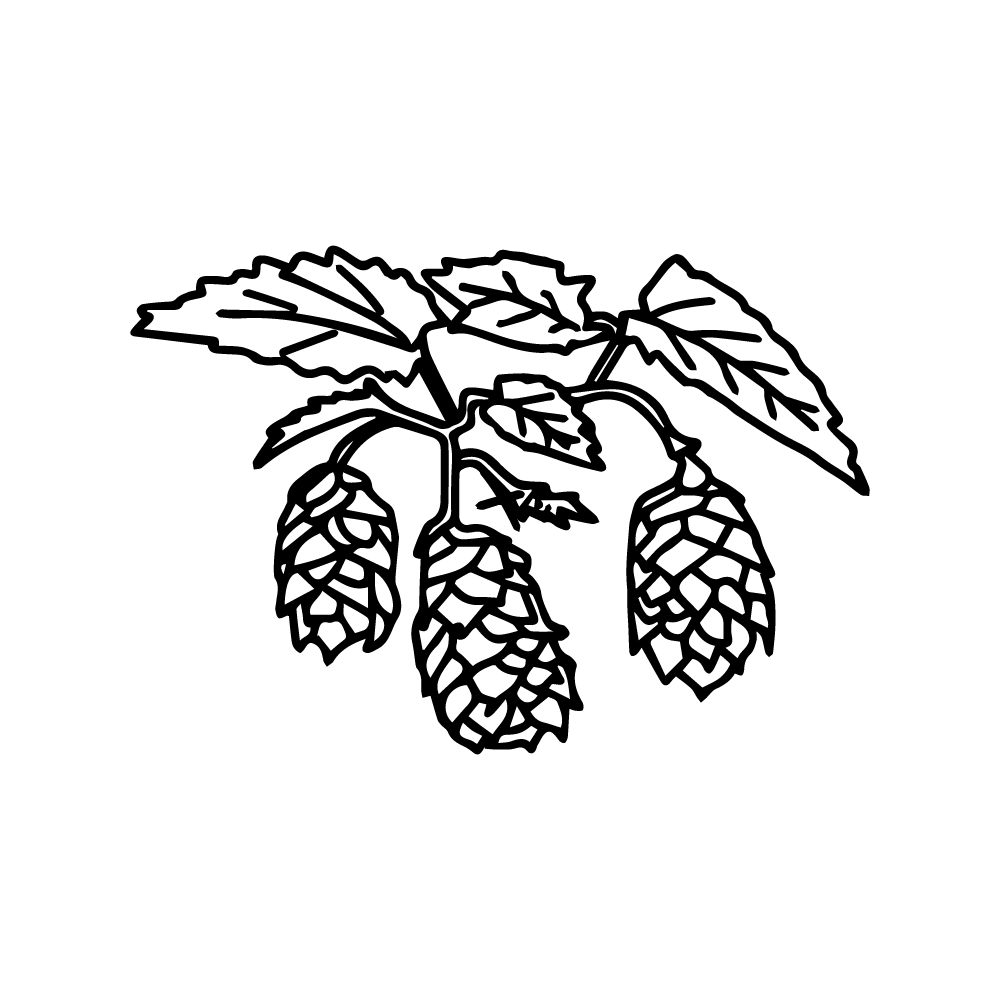 |
About Common hop (Humulus lupulus L.) (European hop, stamine hop, hop)
Cannabaceae is a herbaceous, herbaceous, climbing, biennial plant, 2-6 m tall. The root is perennial, upright, fleshy and produces long horizontal shoots. The stem is ribbed, coarse, covered with hooked spines, especially the lower part. Leaves are opposite, 8-15 cm long and the same width, with 3-5 lobes, cordate bases, toothed, with appendages. Petioles up to 14 cm long. Stamens in axillary or apical panicles, small, greenish whitish or yellowish green. The pistillate flowers are cone-shaped, clustered in short-lobed spikes. The fruit is a single-seeded nut up to 3 mm long. Flowering June-August.
Active ingredients. The cone glands of cultivated hops contain 15-23% lupulin and those of wild hops 7-9%. Lupulin consists of resins, bitter substances (humulone and lupulone), 3-4% glucose, choline, asparagine, 10-15% minerals and 5% tannins, isovaleric acid ester valerol, 3-6% essential oil. Doughnuts contain 0,5-1 % essential oil and free acids (formic, fatty, isovalerian, octyl, nonyl and decylene), formaldehyde, methyl nonyl ketone, farnesol and colouring matter, while the flowers contain about 0,5 % of lupulin and 2-30 mg of the hormone estrogen.
Preparation. The cones of cultivated varieties of common hops (Lupuli strobulus) are more suitable for medicinal use. They are harvested at the beginning of ripening (end of August) together with the stems. In some people, green hops in contact with the skin can cause skin inflammation, so care should be taken when picking to protect the face and hands. The raw material should be dried in a well-ventilated room or in a drying oven at a temperature of no more than 30 °C.
When dry, the cones should remain greenish-yellow, with stalks 1,5-2 cm long, not shrivelled, with a pungent, hop-specific odour and bitterness. The raw material is placed in bags and stored in a dark place at 0 °C; +2 °C. Suitable for consumption up to 4 years.
Use. Hops cone preparations are used to treat insomnia, nervous ailments, improve digestion, stimulate urinary excretion, soothe pain, convulsions and inhibit sexual activity. Cones are bacteriostatic, antiseptic and narcotic.
Hops spurge tea is used for gastritis, ascariasis, urethritis and to strengthen the hair. Hops are particularly widely used in brewing. Wool and silk can be dyed with hops leaves.
Contraindications. Excessive doses of hops irritate the kidneys and adversely affect the nervous system.
Information source: https://en.wikipedia.org/wiki/Humulus_lupulus