Bay leaf vector PNG and SVG. Vector catalog for free. Files are transparent, no background, black and white style.

|
|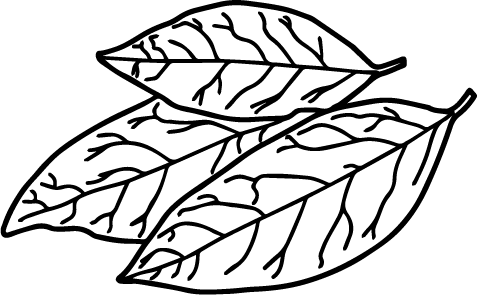 |
About bay leaf
Bay leaf is an evergreen tree of the laurel family with a dense crown. The leaves are large, leathery, oblong or elliptic, glistening from above, with a pleasant spicy smell. Fruits are black-blue ovoid drupes about 2 cm long. The leaves contain 2-3,5 % essential oil, vinegar, valerian, caproic acids and other substances. Laurel fruits have much less essential oil than the leaves, but are rich in fatty oil (almost 25%). Laurel comes from the Mediterranean coast. Bay leaves are a very valuable spice.
They are harvested in autumn and spring and are added to a wide range of vegetable, fish and meat dishes, sauces and preserves. The leaves should be added 5-10 minutes before cooking is finished, as prolonged cooking can produce a bitter spice. The fatty essential oil produced from the fruit is used in folk medicine as an ointment for irritant rubs, in cases of paralysis, rheumatism, muscular inflammation and other diseases.
Although laurel has a long history of use as a healing agent, it was not recognised by medicine for a long time. Laurel is insecticidal and can be added to ointments for lice. In the Caucasus, crushed fruit or bay oil is added to ointments for scabies mites.
Bay leaf an evergreen shrub or tree native to Asia Minor, eastern Mediterranean. It is cultivated in southern and western Europe, North Africa, the Middle East and the Black Sea.
The leaves are most commonly used as a preservative, but the seeds and powdered concentrated essential oil are also used.
The ancient uses of laurel leaves are very different from those of today. Laurel leaves were used to flavour water, which was used by noblemen to wash their hands before meals. As a spice, laurel leaves were used in the first century AD, but only for sweet dishes such as desserts, puddings, apple and fig jams.
Laurel leaves were introduced to Europe primarily as a medicinal herb, but soon gained recognition as a spice.
The leaves are harvested once every two years. Around 4 tonnes of bay leaves are harvested per hectare.
Bay leaves are very easy to dry, but just as easy to spoil once dried if they are not caught properly.
A good bay leaf should be a smooth light olive colour. When cooked, it turns dark green and is similar in colour to a freshly picked leaf. Laurel leaves are stored in an airtight container, tightly compressed and kept in a dry, dark place.
Information source: https://en.wikipedia.org/wiki/Bay_leaf