Thyme vector clip art PNG, SVG. Black white vector. All thyme vectors are transparent, no background for free to download.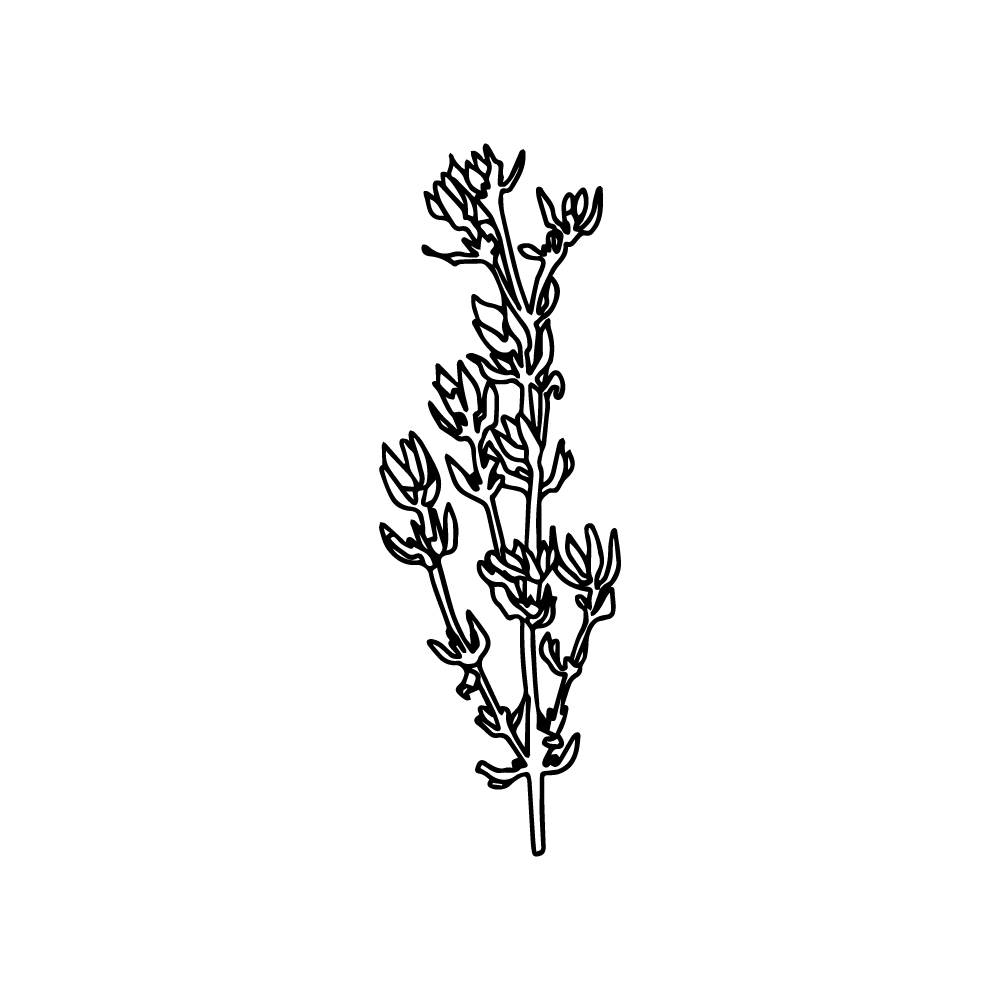 |
About thyme
Perennial semi-shrub 10-20cm tall. The root is woody, strong, branched, brown. Stem erect or ascending, woody, branched, hairy. Branches brownish, flattened, four-edged. Leaves short- or nearly glabrous, lanceolate or linear, 5-10mm long and about 3mm wide, glandular. Flowers pink or reddish lily-like, clustered in axils of 3-6 apical leaves, forming short heads or bells. Flowering June-September. Fruits ripen in August-October. Fruits are dark brown nuts. Aromatic, ornamental, woody, herbaceous and medicinal plant.
Common in southern Europe, Mediterranean coastal countries. Cultivated in the European part of Russia, in many European countries and in North Africa and North America. In Lithuania, it is grown in kitchen gardens, kitchen gardens and botanical gardens as a medicinal and herbaceous plant. Thymus serpyllum and Thymus pulegioides also grow in natural habitats in the Republic. The latter differs from the common thyme in having an erect or ascending stem with a distinctly four-pointed upper part and ovate leaves. It grows in loamy, sandy loam soils, in fens and dry meadows. Common throughout the republic. Thyme can be successfully cultivated.
The biologically active substances in thyme have disinfectant and soothing properties. Its decoction and liquid extract are used to relieve expectoration and pain in bronchitis, laryngitis and other upper respiratory tract diseases. Thyme preparations
kills germs and viruses, suppresses inflammation and relieves spasms. It is used for diseases of the digestive tract, liver, kidneys and bladder.
Thyme tea is used to treat stomach and headaches, colds, persistent coughs, insomnia and respiratory infections. Decoction of the herb is a good remedy for flatulence. Externally used for inhalations, rubs, compresses, aromatic baths, mouth and nasopharyngeal rinses for mucosal inflammation. A strong decoction of the herb is poured into the bath to strengthen the whole body and the capillaries of the skin in muscular and joint diseases; it is also used to rinse the mouth in case of inflammation of the mucous membrane.
– The raw material is used to produce pertusin, which is particularly suitable for children's coughs.
Information source: https://en.wikipedia.org/wiki/Thyme